Posted: Tue, 05 Sep 2006 12:18:39 PDT
An Adventure, a Mystery and a Virtual Pet Horse.
What do all these have in common? Well, they are all elements of a PC Game Package marketed specifically as "3 Great Games for Girls". 3 "Great" Games,I've never heard of until I stumbled upon this..maybe because they are a few years old and targeted towards Teens. And probably because these aren't games that I particularly like to play.
"Packed with hours and hours of solid entertainment for girls and women alike…" Oh Really?
With a product description like the above, it's sure to catch your eye..but would you actually play?
Syberia – Adventure Game of the Year(LucasArts),
Return to Mysterious Island(Kheops Studio),
and Saddle Up – Time to Ride(The Adventure Company) involve solving puzzles, going on an adventure and virtual pets, typical genres that have been associated with being part of the"genre for girls"; a non-existant genre in my point of view.
"It is stupid to put female labels on games, it is better to appeal to the individual," says Ms Thomsen, a member of a Danish Counterstrike clan "DoMe".(Article: Girl gamers strike at the boys)
I also agree that there can be no true "girl genre" when female gamers play EVERYTHING from Tetris to Quake evident from 1up.com itself and the many clans that play online FPS(First Person Shooter) games.
Companies go to whatever lengths to convince girls that gaming is not just for guys. How to convince more of the female population that playing video games isn't just for guys? is a common topic around the industry and a dilemna that won't just disappear with creating girl game packages like this. But I'm sure this isn't the first time a girl game package has been marketed and sold. There is nothing wrong with the premise of the 3 games or even the fact that you play strong female characters in each of them. This game may in fact appeal to teenage girls that already play games on their PC and there is nothing wrong with that. Everyone has their own preferences for what they want to play.
Packaging a game like this seems like a perfect marketing scheme, making it easier for parents to pick out the perfect type of game for their daughter, but, these "girly games" aren't what female gamers are interested in.
"They don't want 'pink games'. They are not trying to play girly games where Paris Hilton and Britney Spears go shopping and put make-up on. "
(Article: How the Video Game Industry is Failing Women)
The games packaged in this Dreamcatcher PC Game Pack is far from a Paris Hilton/Britney Spears shopping trip but it also isn't a complete picture of what girls play. [For the group of females that already play video games the games they seem to be most drawn to are MMOs(Massive Multiplayer Online):World of Warcraft, Simulation:The Sims, or games likeKatamari.] This girls game package labels the perfect girl game as the three games included and not only are those games not very well known but it also plays into the stereotype of girls preferring 'innocent' games that are the exact opposite of what a guy gamer would play.
Although there is no interest in "Pink Games" that doesn't mean girls aren't still interested in the color PINK!! I've heard many a Hallelujah from girls after the announcements of the Pink DS, Pink PS2, and Pink PSPs coming to N. America.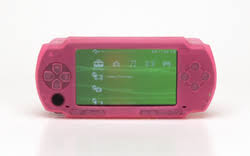 [ Cellphones seem to also follow this trend — I recently saw the Pink MotoRazr. ]

Now girls can take pride in their pink gear.
Despite what companies want to believe and what marketing tends to say, there is really no specific game genre for girls. With the number of females that play video games growing each year, and the upcoming release of the Nintendo Wii, more girls may find an appeal in gaming. Girls, like Boys, like games AND games are Universal.